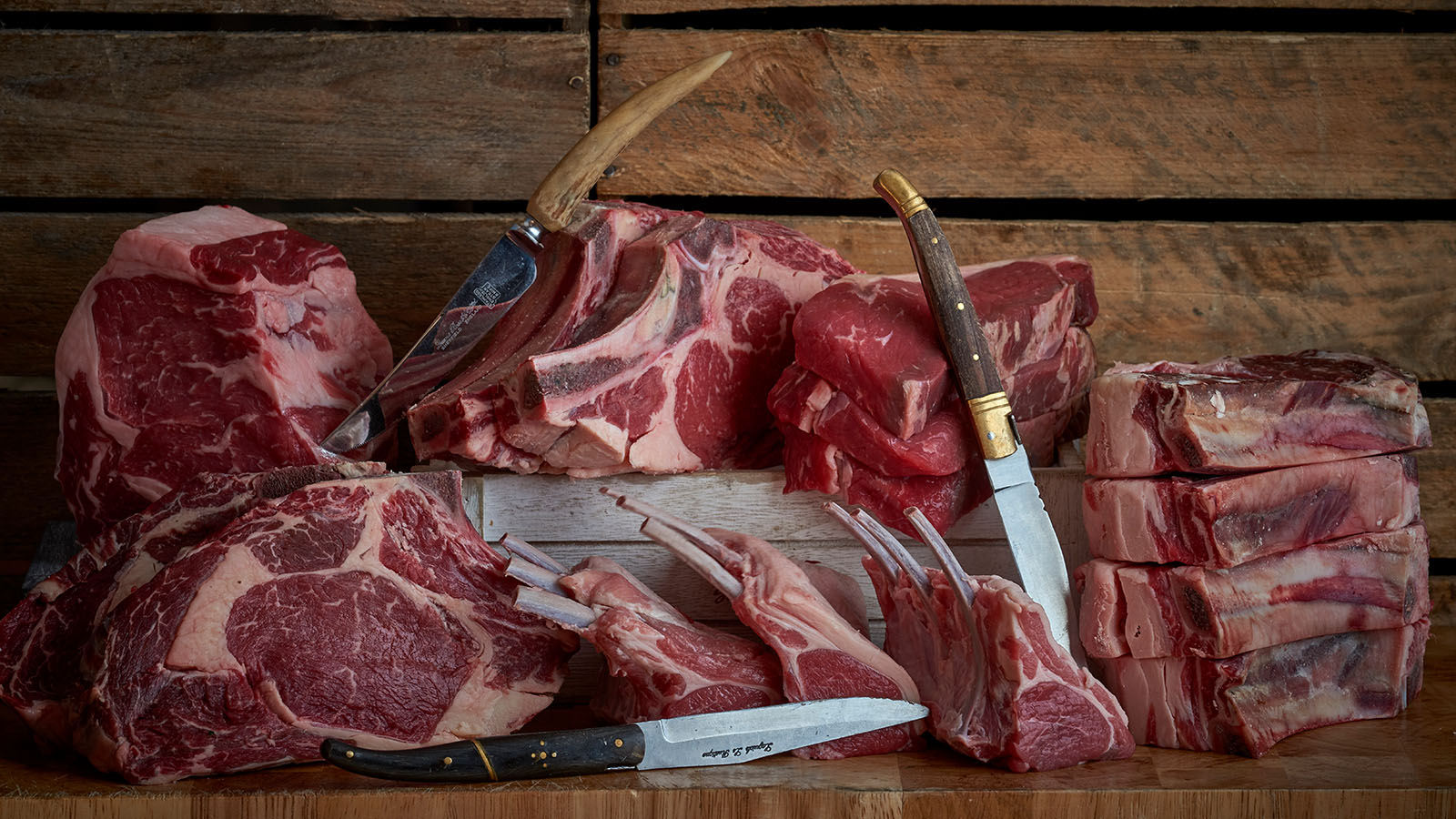 Bullshead Gillrays A La Carte Dining Menu
A Mouthwatering Dining Experience awaits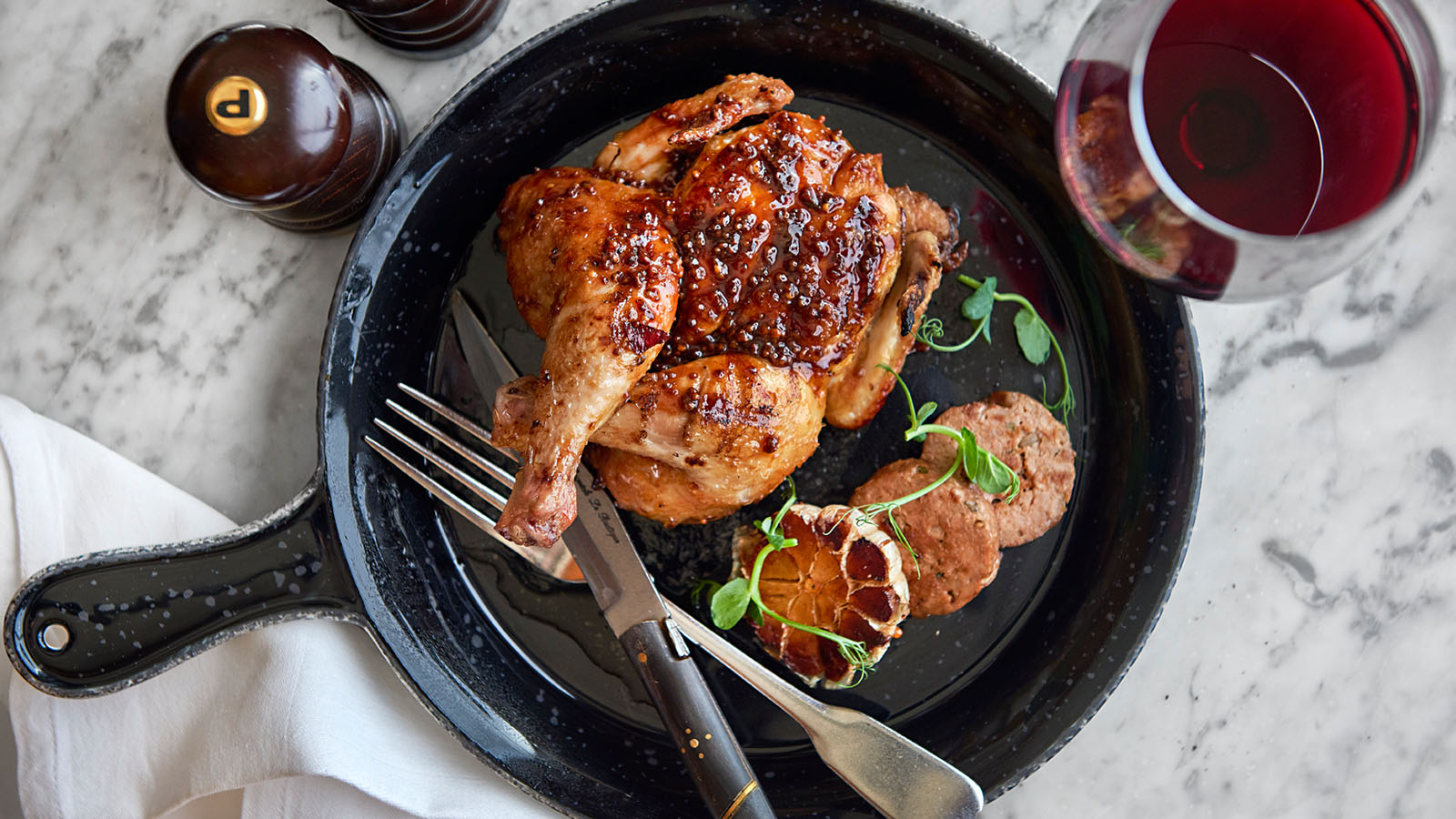 Roast chicken
From traditional British delights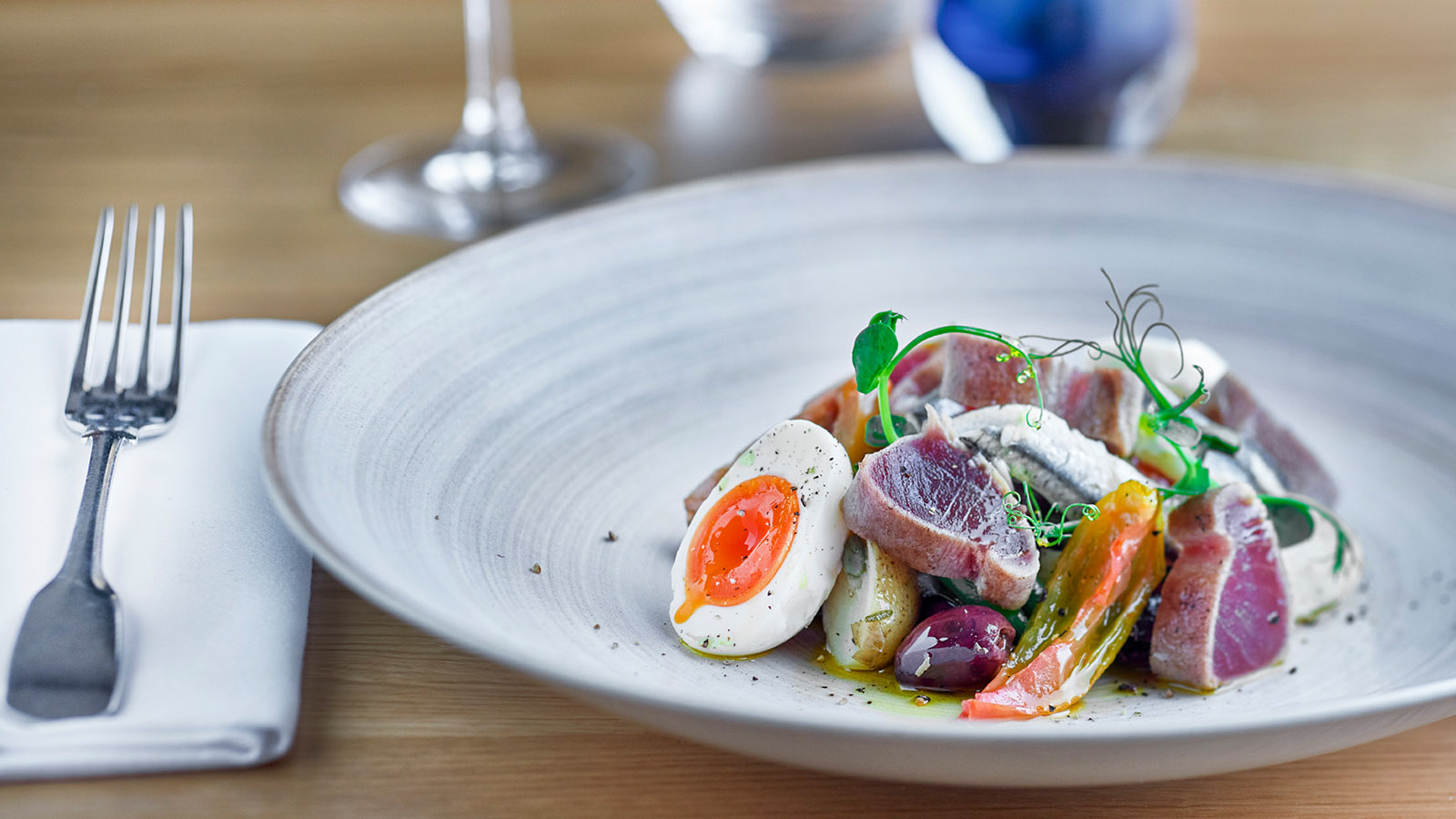 Tuna Nicoise Salade
Monday - Friday

6:30AM - 10:30PM

Saturday - Sunday

7AM - 10:30PM

Bar Opening Hours: Monday - Sunday

11AM - midnight

Breakfast Hours: Monday - Friday

6:30AM - 11AM

Breakfast Hours: Saturday - Sunday

7AM - 11AM
Experience the very best of Gillray's Steakhouse & Bar including our signature 35 days aged fillet or our signature Yorkshire club.
Scroll down for our special offers, theatre dinner or Sunday roast or click here to download our menu >
A La Carte Menu
Our Menus are seasonally written to offer the best of the British countryside and larder. We offer the very best in quality produce and work tirelessly to ensure that our produce is sourced sustainably and responsibly.
Teasers
The Jubilee - £14.50
Gin infused with rhubarb & ginger jam. Shaken with fresh lemon juice & mint to make a fresh & zesty cocktail
A Smoking Club - £13.50
A British twist on an Italian classic, with dry gin, sweet vermouht and a drop of sweet wine bitters.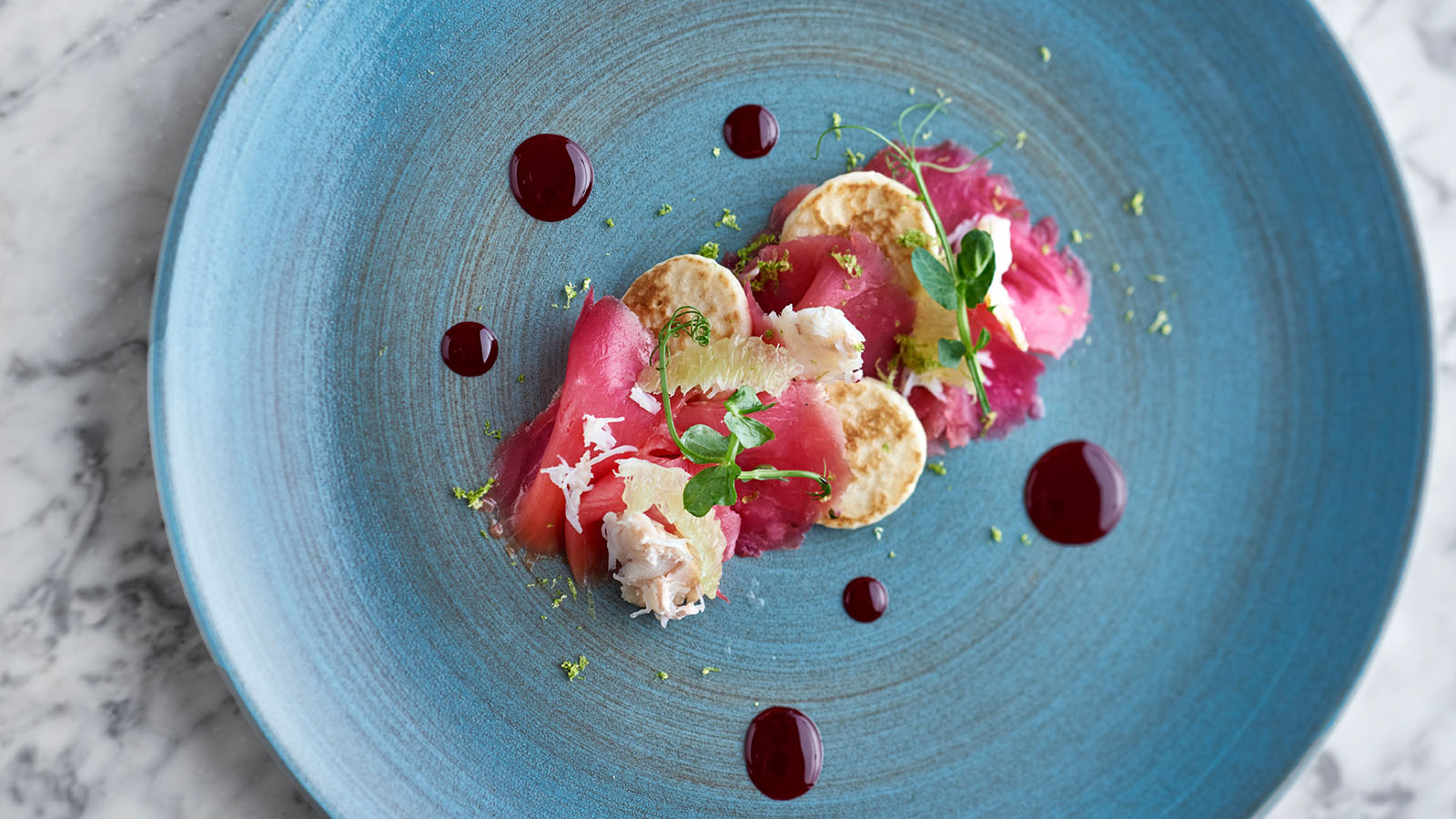 Starters
Maldon Salt Baked Cornish Oysters - £13.50
O'Shea's Smoked Streaky Bacon Crisps, Apple Salsa
H Forman & Son Seaweed Smoked Salmon - £16
Lime Chutney, Cucumber Yoghurt, Buckwheat Pancakes
Pan Fried Scallops - £16
Roasted Butternut Puree, Chilli, Toasted Pine nuts, Sage
Potted Pork - £10
Thyme, Brandy Caramelised Shallots, Tiptree Grain Mustard, Toasts
Beef Tea - £8
Freshly Brewed
Potato Terrine (v) - £9
Lyburn Oak Smoked Cheddar, Beer Pickled Leeks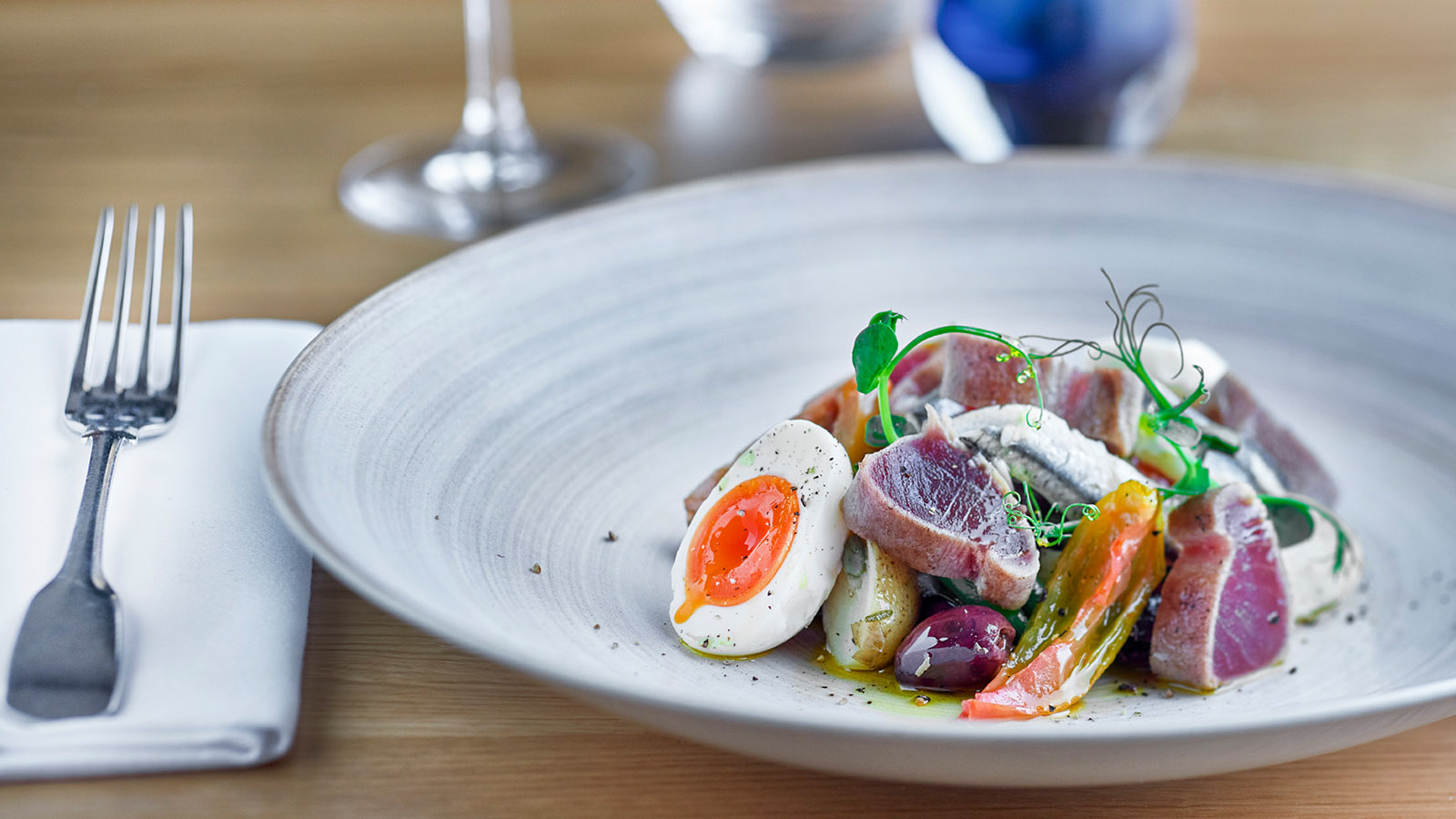 Salads
Pan Fried Crusted Mackerel - £9/17
Baby Gems, Croutons, Parmesan, Marinated Anchovies, Oyster Dressing
Covent Garden Market Salad (v) - £7/15
Pumpkin Puree, Crispy Black Quinoa
Grilled Flat Iron Steak - £9/16
Warm Swiss Chard, Heritage Carrot & Fennel Seeds, 'Barkham' Blue Cheese Dressing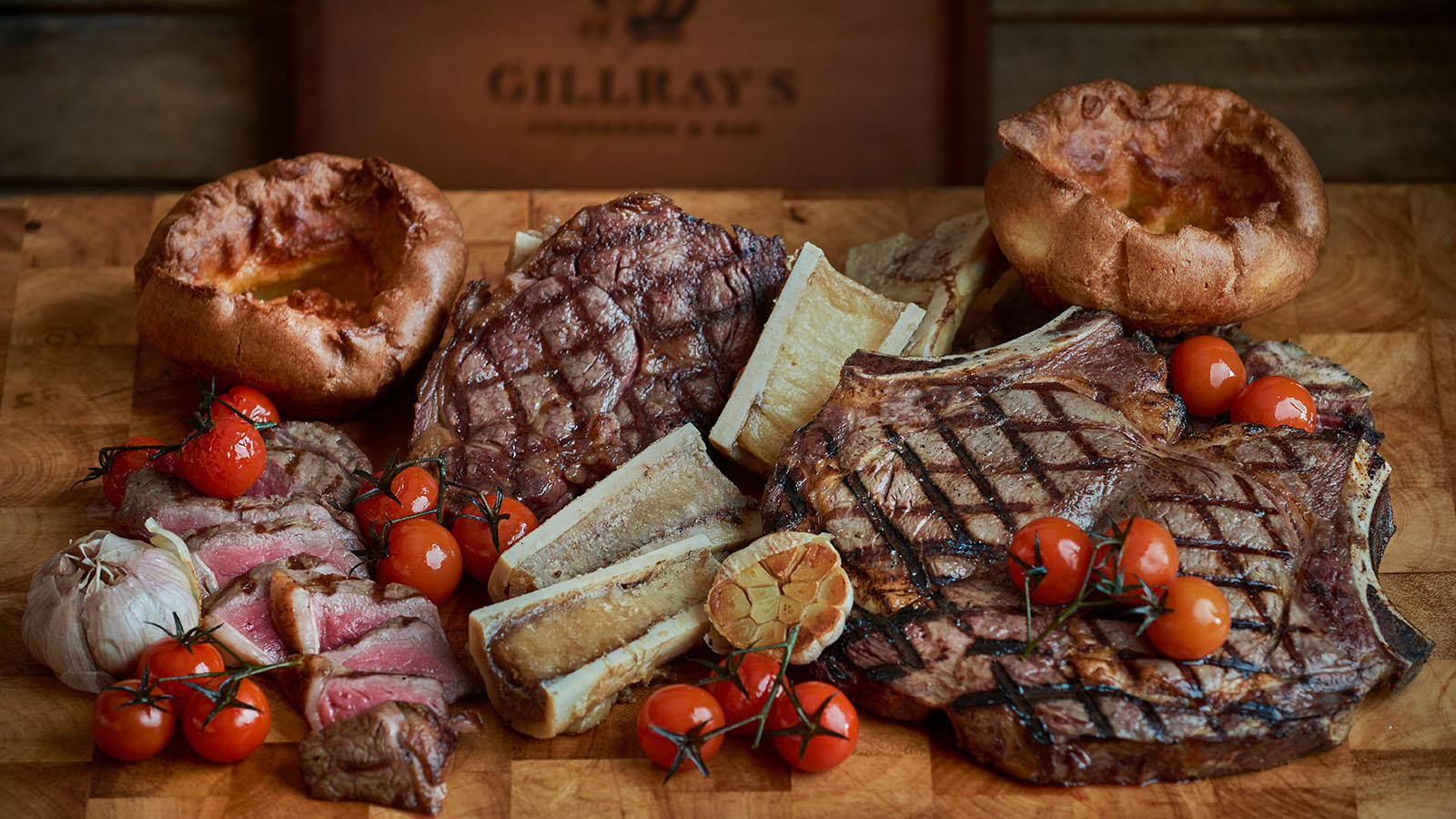 O'Shea's Steaks
35 Day Dry Aged Aberdeen Angus, hand Selected from some of Britons Finest Farms All Served with Bone Marrow & Confit Vine Cherry Tomatoes.
Fillet 250g - £36
BONE IN
Prime Rib 500g - £40
BONE-IN
T-Bone 600g - £42
BONE IN
Fillet 150g - £28
BONE OUT
Fillet 200g - £36
BONE OUT
Sirloin 250g - £31
BONE OUT
Rib Eye 300g - £33
BONE OUT
Flat Iron 300g - £26
BUTCHER's CUT
Rump Steak 300g - £26
BUTCHER's CUT
Venison Loin 250g - £35
BUTCHER's CUT
Gillray's Bulls Head 1kg - £70
Our Signature Double Prime Rib
Gillray's Meat Feast - £80
200g Rib eye, 200g Smoked Bacon Chop, Lamp Cutlets, Tiptree BBQ Chicken wings, Honey & Chilli Beef Short Rib, Paprika sausage, Bone Marrow, Confit Vine Cherry Tomatoes, Two Sides & Two Sauces
Toppers - £3 to 7 each
Paprika Sausages
Poached / Fried Burford Brown Eggs
White Wine & Herb Tossed King Prawns
Sauces - £3 each
Choose from Red Wine, Oxford Blue Cheese, Peppercorn, Bearnaise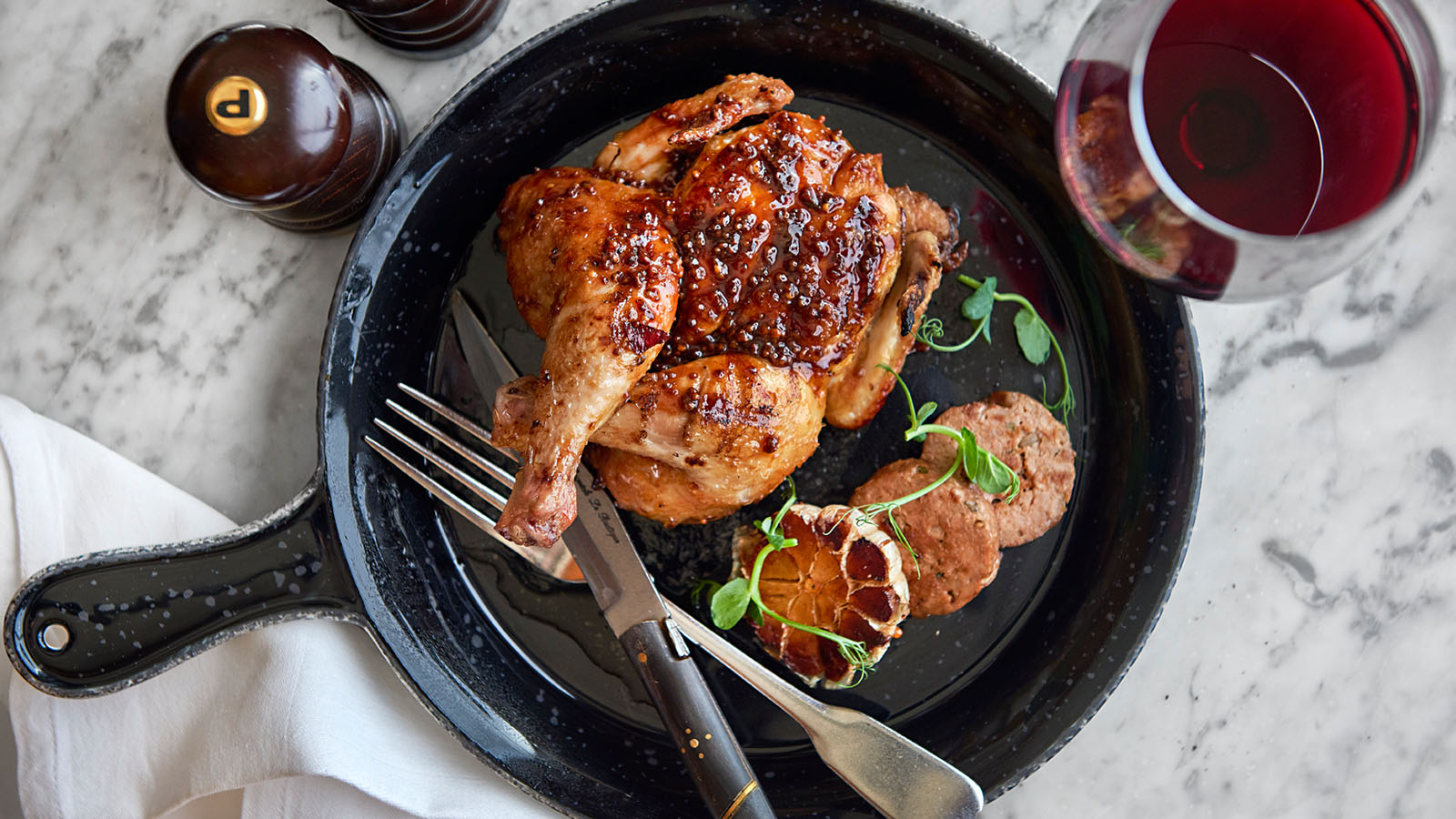 Other Mains
Gillray's Yorkshire Pudding Club - £21
150g Sliced Sirloin Steak ,Tomato Chutney, Our Homemade Bacon Jam, Red Wine Sauce, Topped with a Fried Egg
Gillray's Steak Burger 200g - £16
Slow Braised Ox Cheek, Bacon Jam, 'Lyburn' Oak Smoked Cheddar, Dill Pickle Fritter
Steak Burger 200g - £16
Slow Braised Ox Cheek, Bacon Jam, 'Lyburn' Oak Smoked Cheddar, Dill Pickle Fritter
Fish & Chips - £20
'Gillray's' London Pale Ale Battered Haddock, Triple Cooked Chips, Posh Peas, Tartare Sauce
Marinated & Fried Courgette Flowers (v) - £15
English Buffalo Ricotta, Courgette & Ginger Puree
Covent Garden Market (v) - £15
Veggie Dish of the Day
Billingsgate Market Fish - £25
Catch of the Day
One Pot Roast Baby Chicken - £23
Roasted Baby Vegetables, Potato
Sides
Triple Cooked Chips - £4.50
Flat Cap Mushrooms, Rosemary - £5.5
Celeriac 'Oxford Blue' Cheese Puree - £6
Braised Savoy Cabbage & Baby Onions - £4
Creamed Baby Leaf Spinach - £5
Pan Tossed Baby Leaf Spinach, Garlic & Chilli - £ 5
Desserts
Sticky Toffee Pudding - £ 8
Rum & Raisin Ice Cream
Pistachio & Cinnamon Slice - £ 8
Candied Apricots, Calvados Cream
Chocolate Tart - £ 8
Sea Salted Caramel, Chocolate & Orange Ice Cream
Salcombe Dairy Ice Cream - £ 7
Ask For Available Flavours
Alcoholic Ice Cream - £ 8
Bathtub Gin, Cherry Brandy, Spiced Rum
Gillray's English Cheese Board - £ 12
'Lyburn' Oak Smoked, Stoneycross, Tunworth, Barkham Blue
Tiptree Lemon Curd Meringue Pie - £ 15
to share
All prices are inclusive of VAT. A discretionary service charge of 12.5% will be added to your final bill. If you are concerned about allergies, e.g. nuts, you are invited to ask one of our team members for assistance.
Special Offers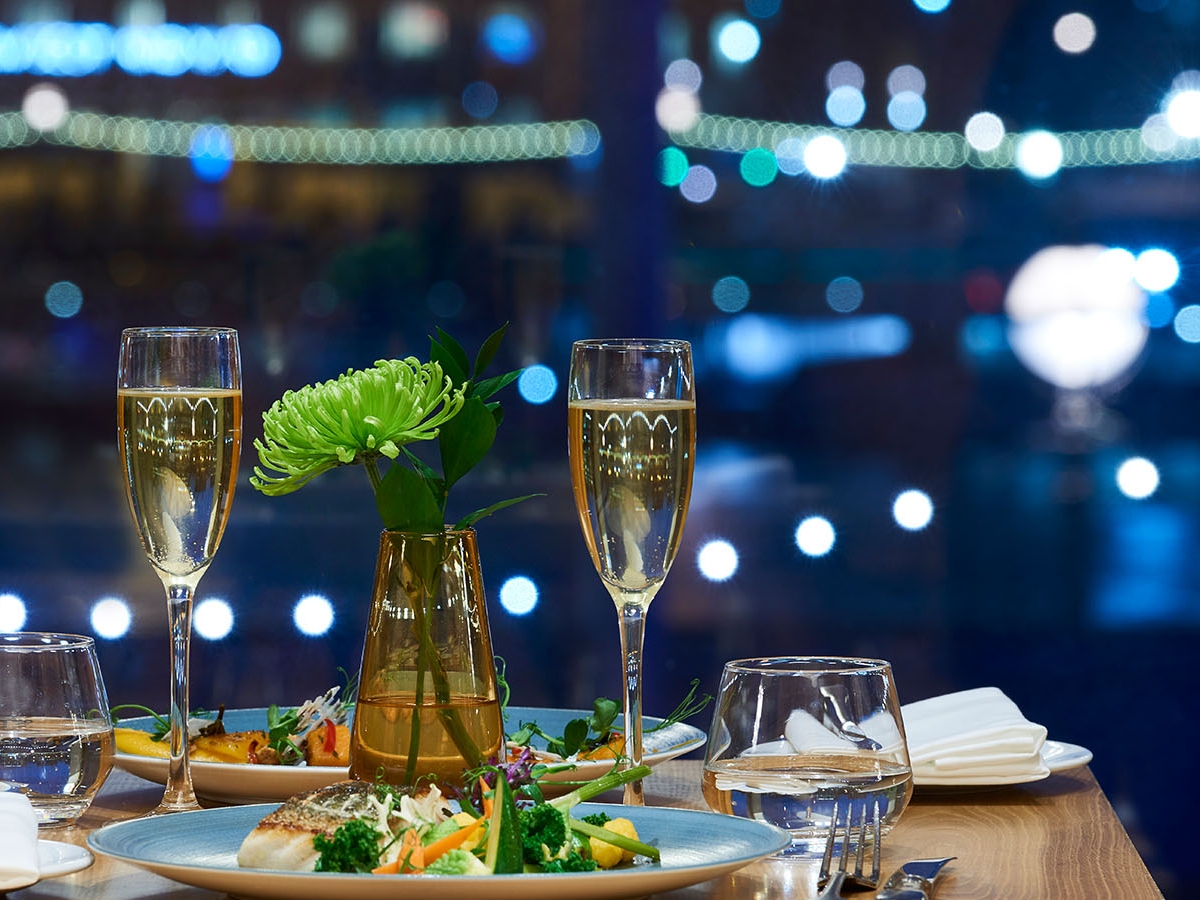 Available daily from 5-6pm and 9-10:30pm
Join us before or after the show to complete the evening with our theatre dinner menu. Learn More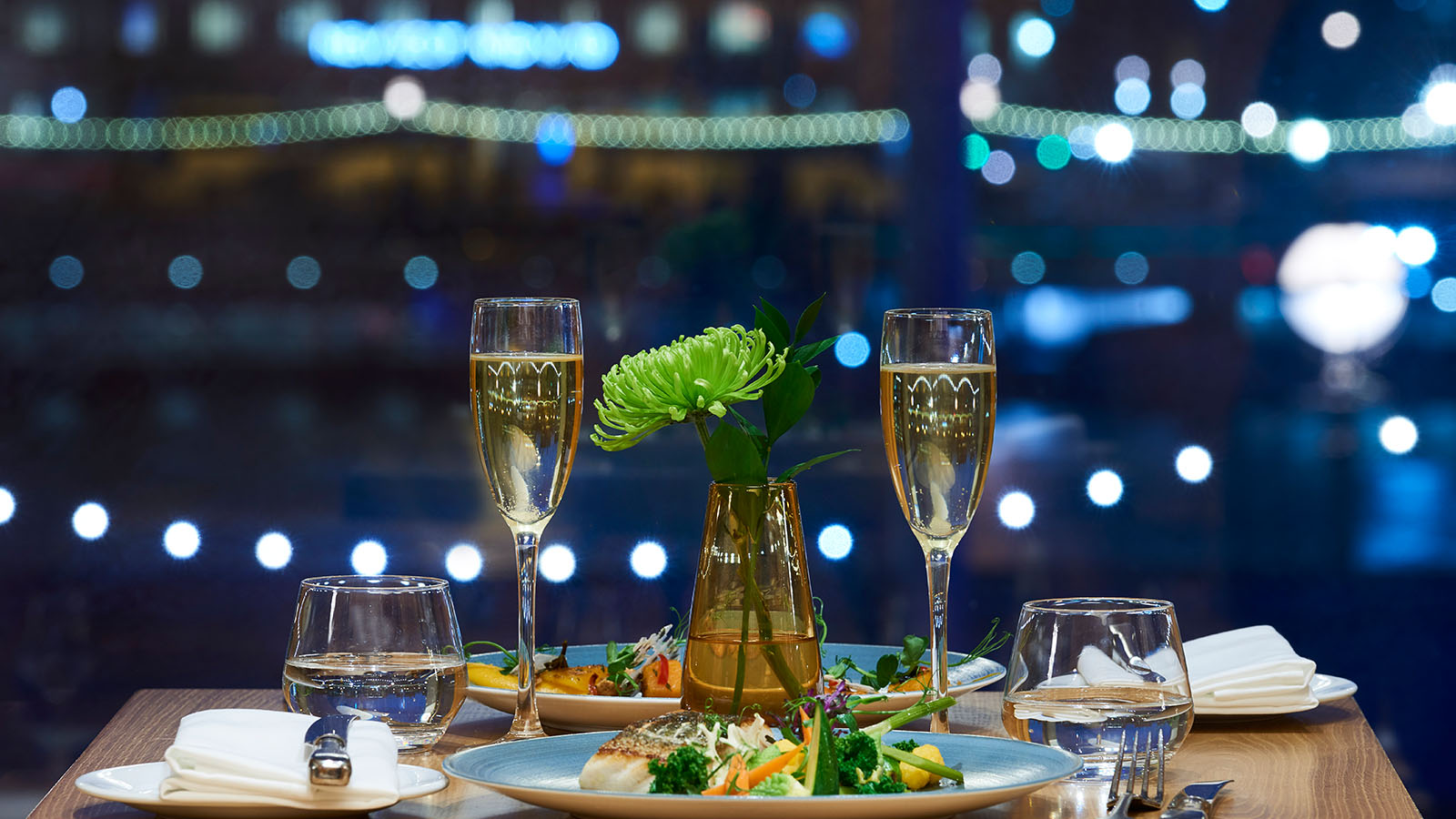 Pre Theatre Dinner
2 courses, including a glass of sparkling for £23 to complete your evening experience.
Book now
Choice of 2 courses from the Taste of Gillray's menu. Sparkling wine is sommelier's Choice. Available every daily from 5-6 and 9-10.30pm. Gillray's reserves the right to discontinue offer at any time.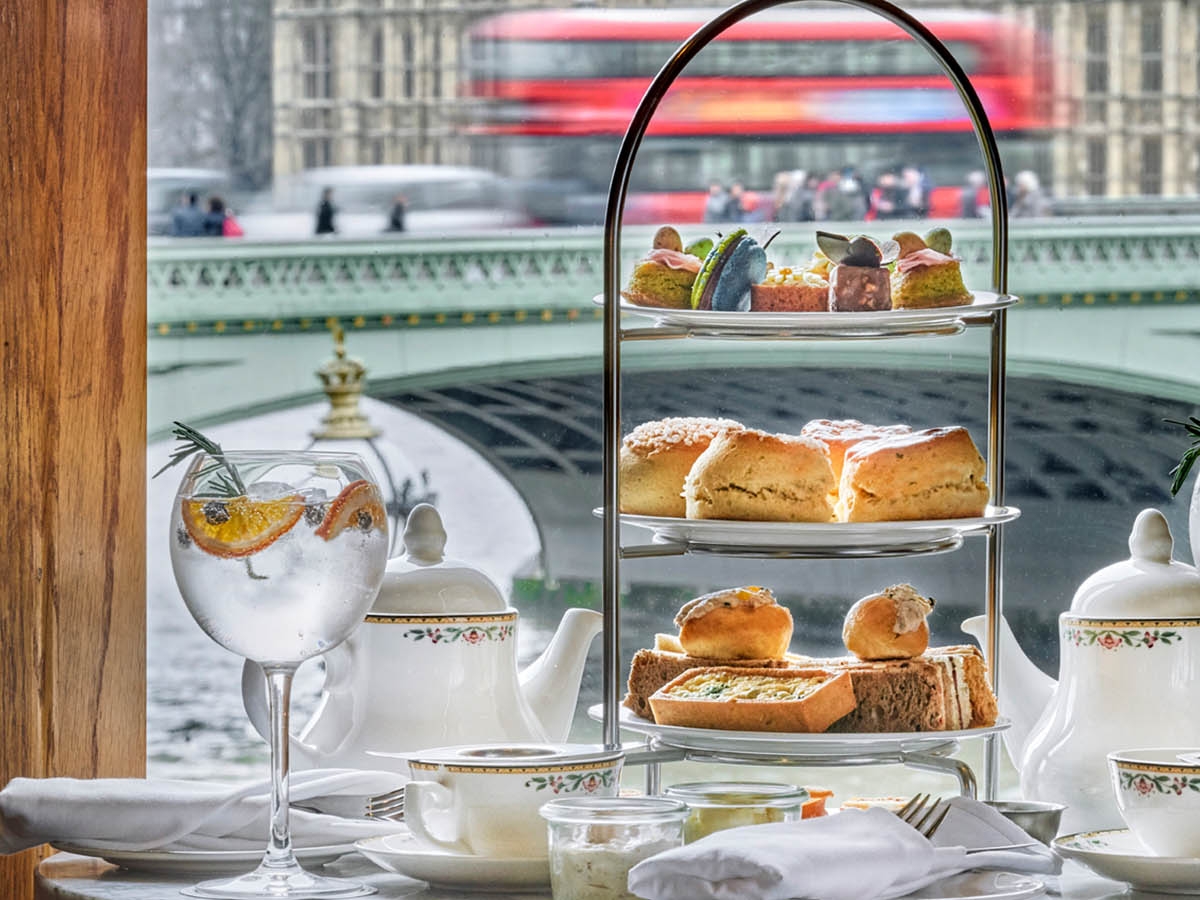 Valid until December 2019
A new perspective on British Afternoon Tea. Join us for free-flowing G&Tea at Gillray's Bar. Learn More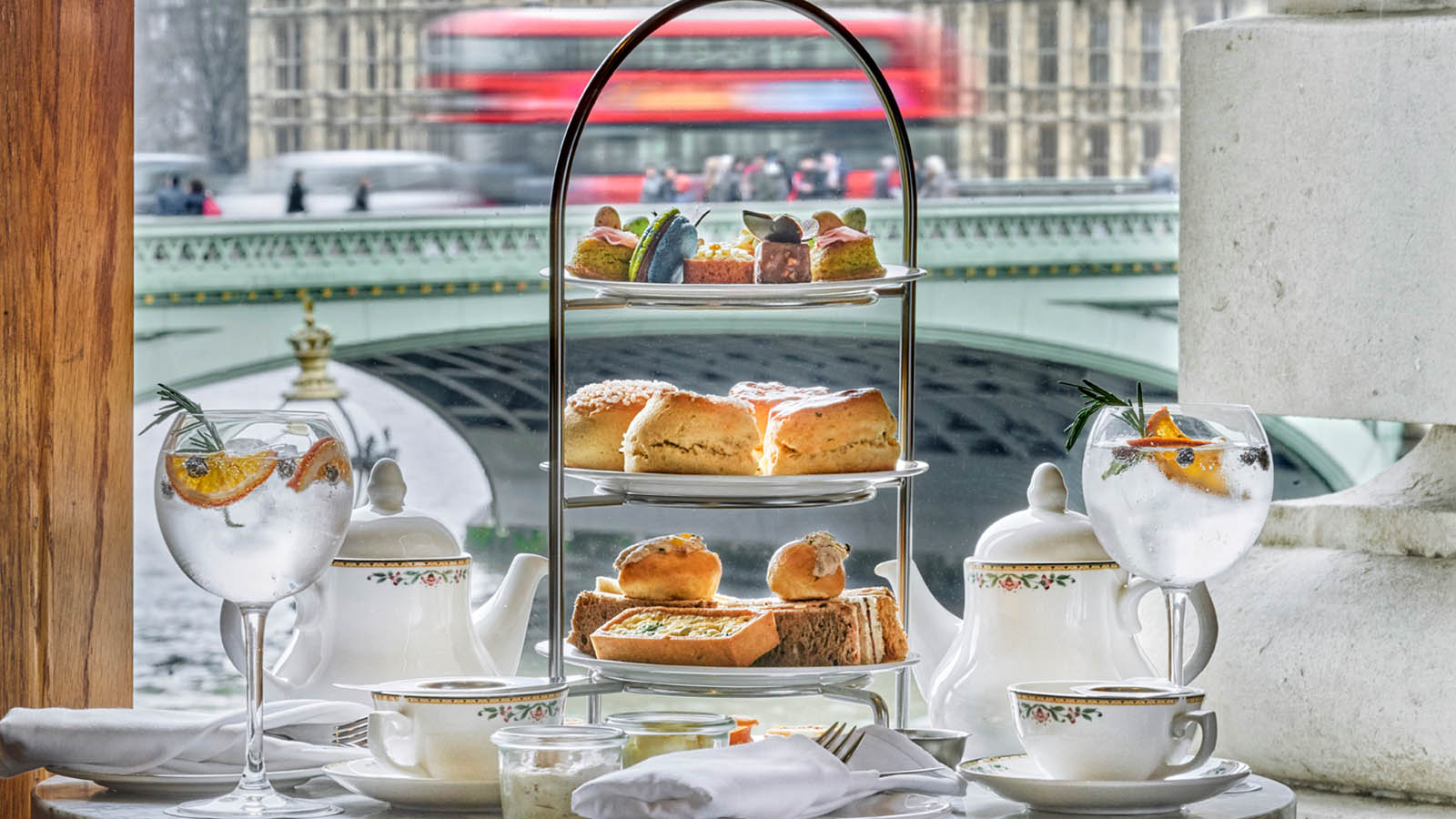 Free-Flowing G&T afternoon tea
Enjoy free-flowing gin & tonic afternoon tea at £39 per person (£41 Sat-Sun) overlooking Houses of Parliament, River Thames and Big Ben
Book now
Subject to availability. Restaurant may change, improve or discontinue offer at any time. Inlcudes VAT. Excludes service. Dishes subject to change.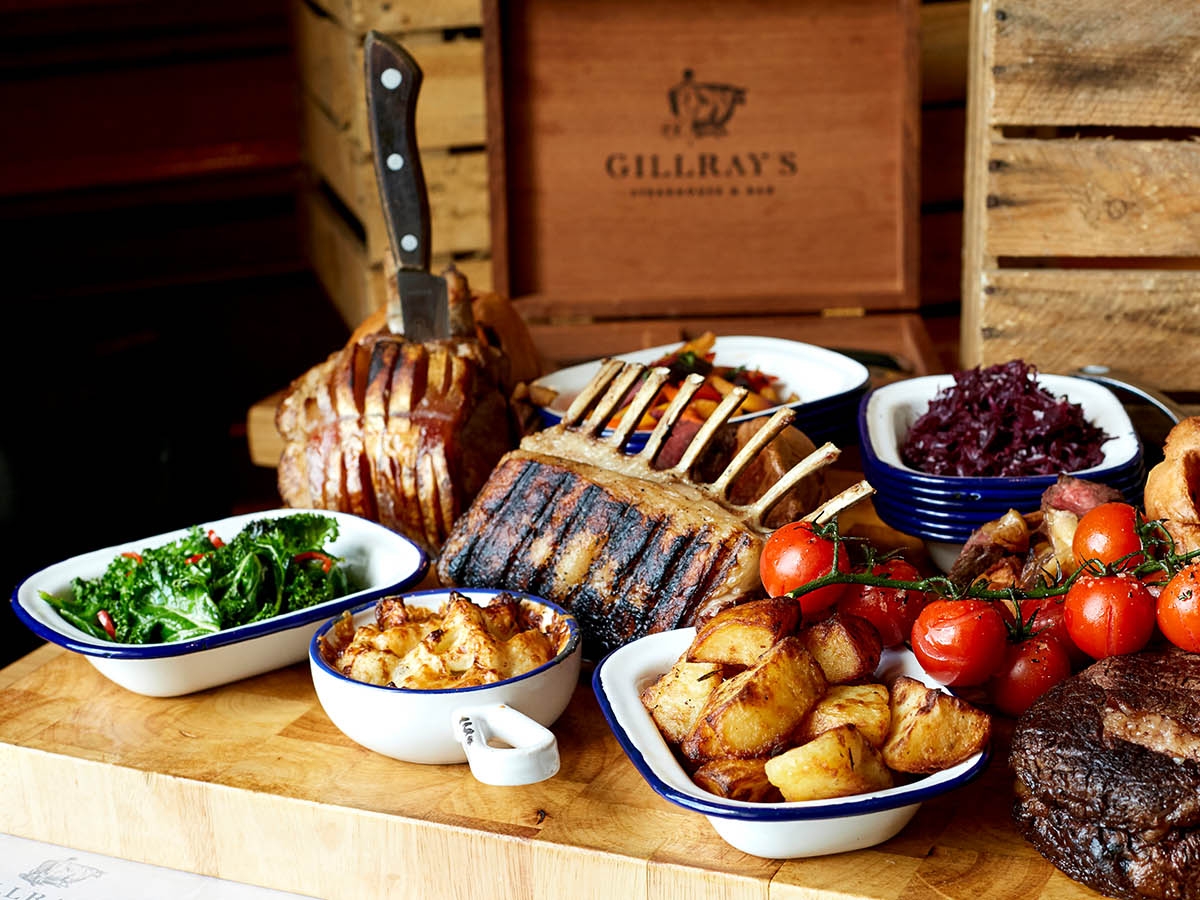 Every Sunday from 12pm - 6pm
Join us for a mouthwatering Sunday Roast experience, every Sunday from 12-6pm from £22 Learn More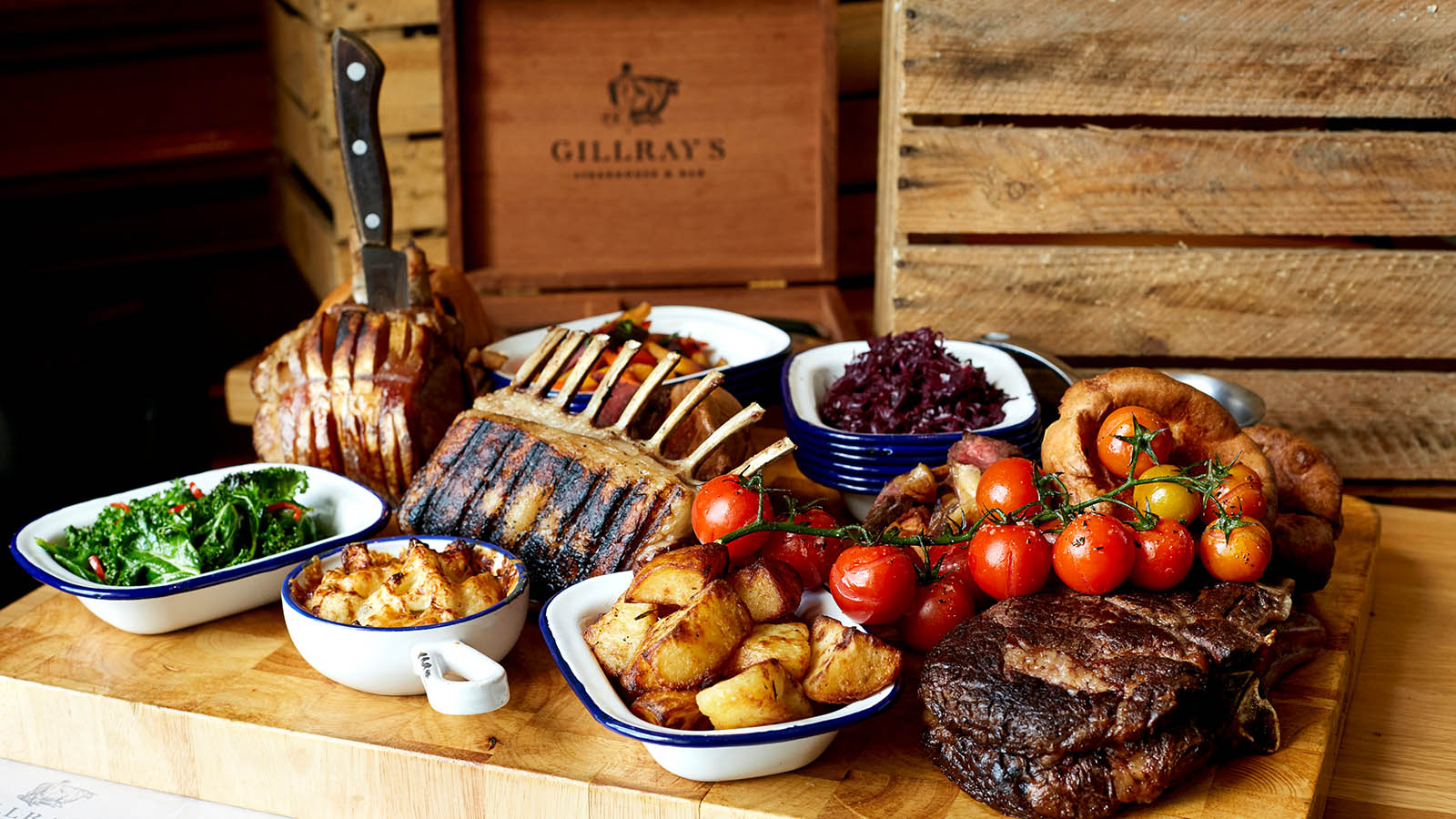 Sunday Roast
Crispy-outside-fluffy-inside potatoes, puffy great Yorkshires, the finest veg and top quality meats: discover our traditional Sunday Roast overlooking the river Thames, every Sunday from 12pm - 6pm from just £22 per person
Book now
£22 for 1 main portion of Sunday Roast, excluding drinks and service charge. Gillray's may change, improve or discontinue offer at any time.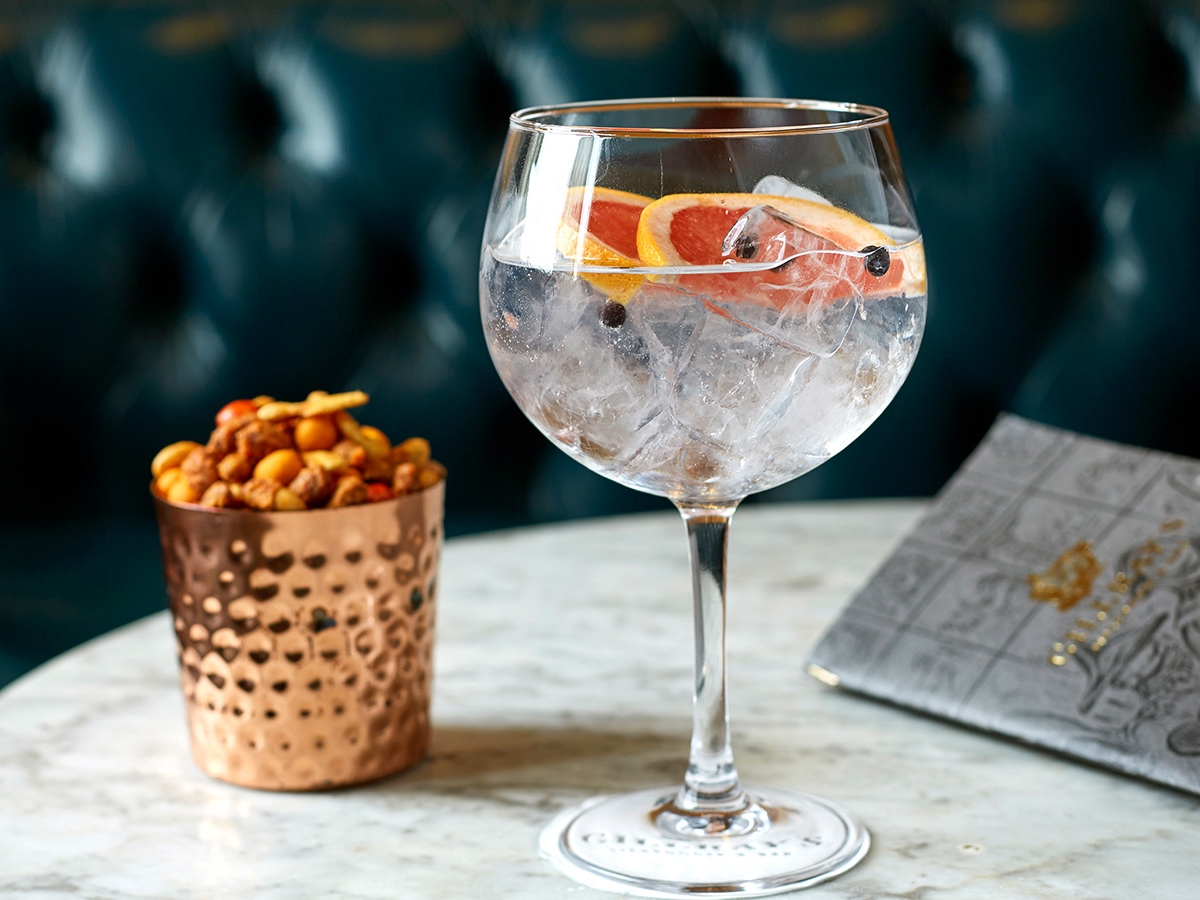 Monday - Friday, 6-7pm
It's Gin o'clock at Gillrays, every Monday - Friday from 6pm - 7pm get your G&T for only £5 Learn More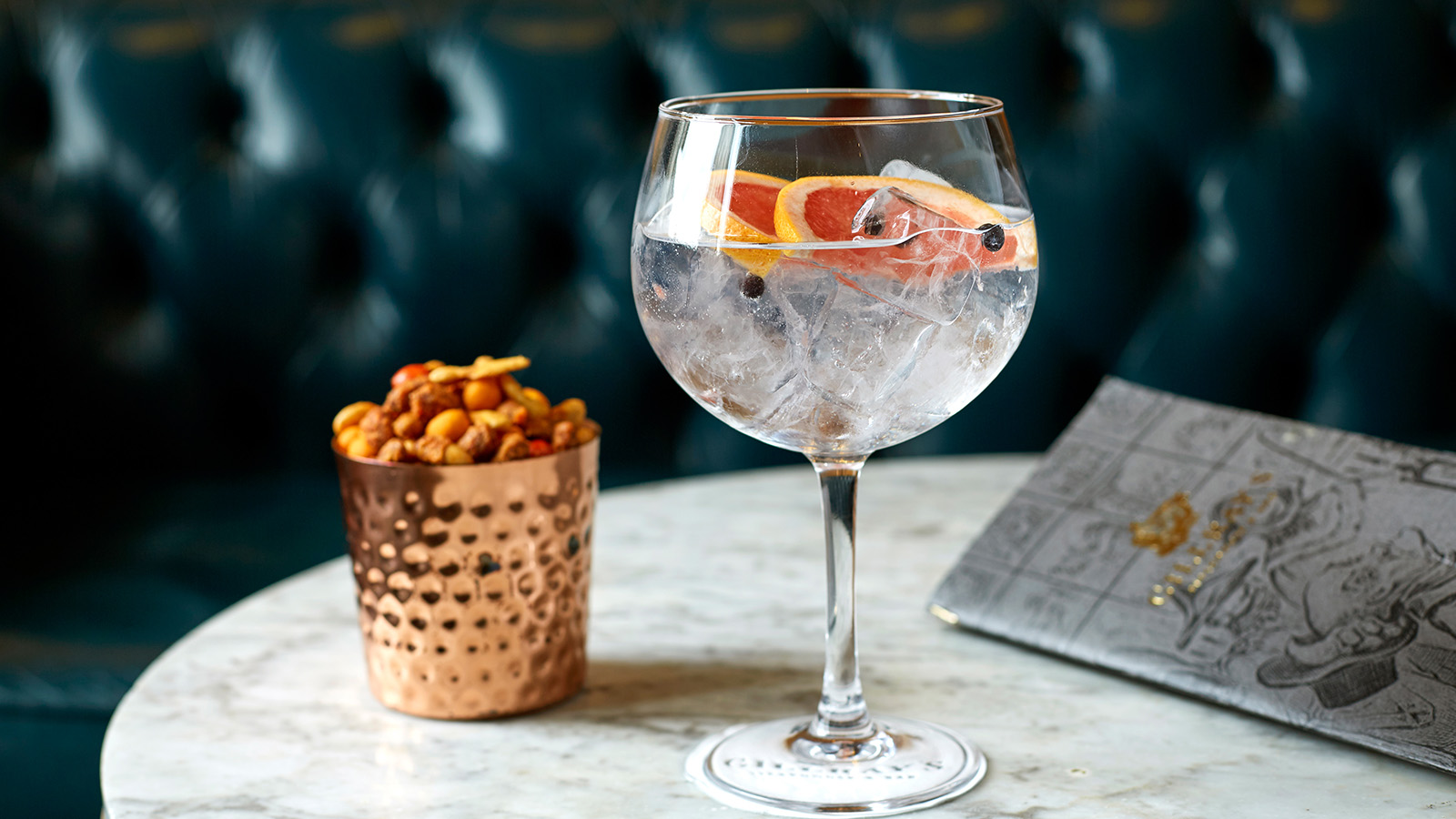 Gin Hour
Celebrate the heritage of British Gin at our famous Ginbar Gillray's and get your G&T for only £5 from 6-7pm, Mo-Fr.

Choice of Gin by Barman. Gillray's reserves the right to discontinue offer at any time. Must mention offer to barman at time of ordering. Does not include 12.5% Service Charge.
Monday - Friday 6:30AM - 10:30PM
Saturday - Sunday 7AM - 10:30PM
Bar Opening Hours: Monday - Sunday 11AM - midnight
Breakfast Hours: Monday - Friday 6:30AM - 11AM
Breakfast Hours: Saturday - Sunday 7AM - 11AM