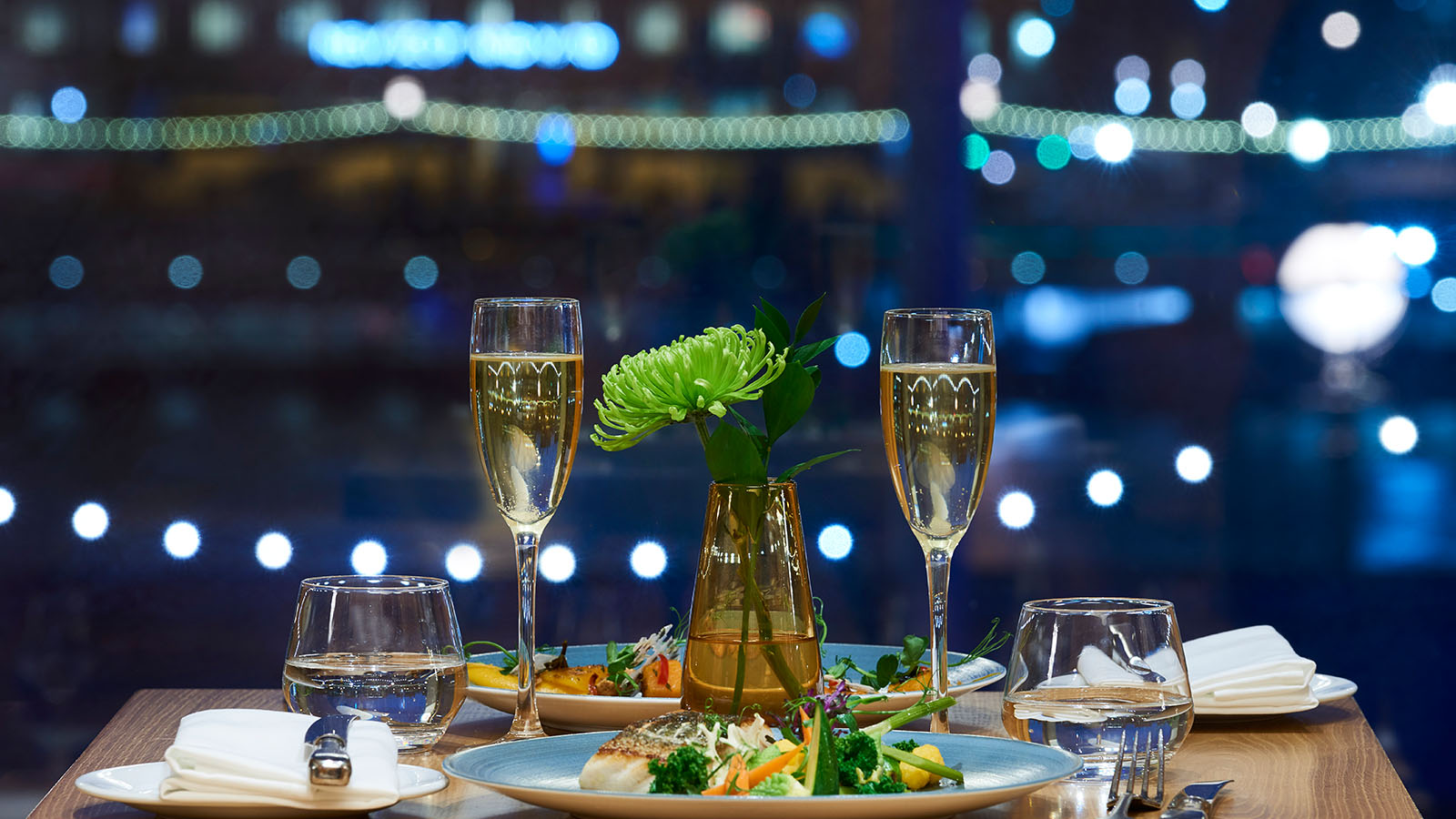 Theatre dinner with a view
Monday - Friday

6:30AM - 10:30PM

Saturday - Sunday

7AM - 10:30PM

Bar Opening Hours: Monday - Sunday

11AM - midnight

Breakfast Hours: Monday - Friday

6:30AM - 11AM

Breakfast Hours: Saturday - Sunday

7AM - 11AM
Theatre Dinner at Gillray's Steakhouse
Start your night out at Gillray's
Start your evening with a delicious meal at Gillray's Steakhouse & Bar before enjoying the show.
A special offer pre- and post-theatre dinner menu is available Monday - Friday, including 2 courses from our 'Taste of Gillray's ' menu and a glass of sparkling for £ 23.
From 5-6pm - 9-10.30pm, Monday - Friday, at Gillray's Steakhouse.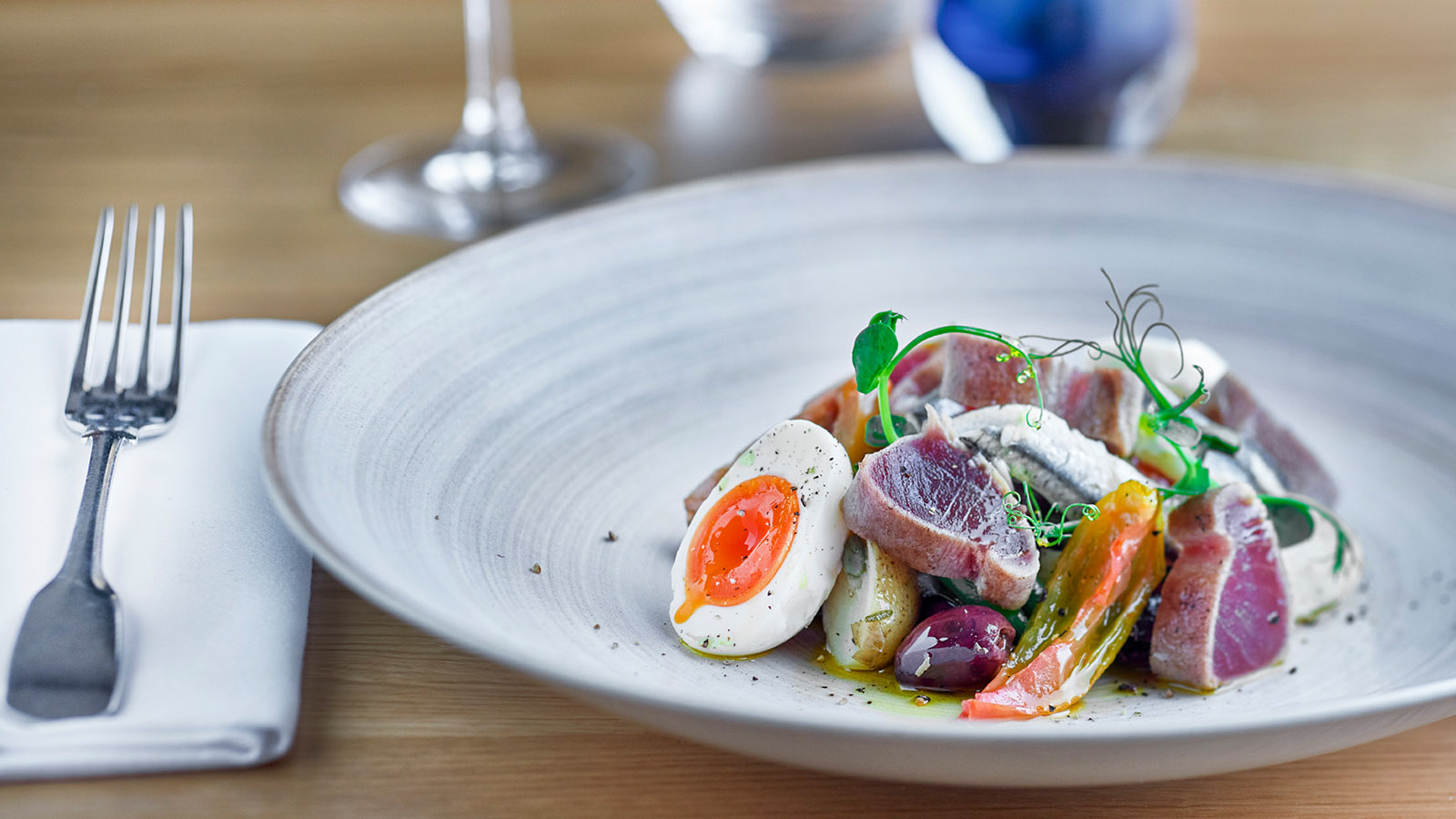 From Chef's Hat
Executive Chef Jamie Welch has challenged his team's skills and talents in an inspirational competition. By picking names out of a hat, each chef came up with a dish to test their creativity and passion for food. Under Jamie's guidance, they created an impressive, mouth-watering menu sourced from local British produce. The winning dishes, chosen by our guests will feature in the new a la carte menu.
Starters
Covent Garden Market Salad
Pumpkin Puree, Crispy Quinoa By Dean Fewtrell, Junior Sous Chef
Free Range Chicken & Mushroom Roll
'Woodall's' Black Combe Ham, Aubergine, Tarragon By Giordano Di Loreto, Commis Chef
Crusted Pan Fried Mackerel
Baby Gems, Croutons, Parmesan, Marinated Anchovies, Oyster Dressing By Giulia Salvi, Chef De Partie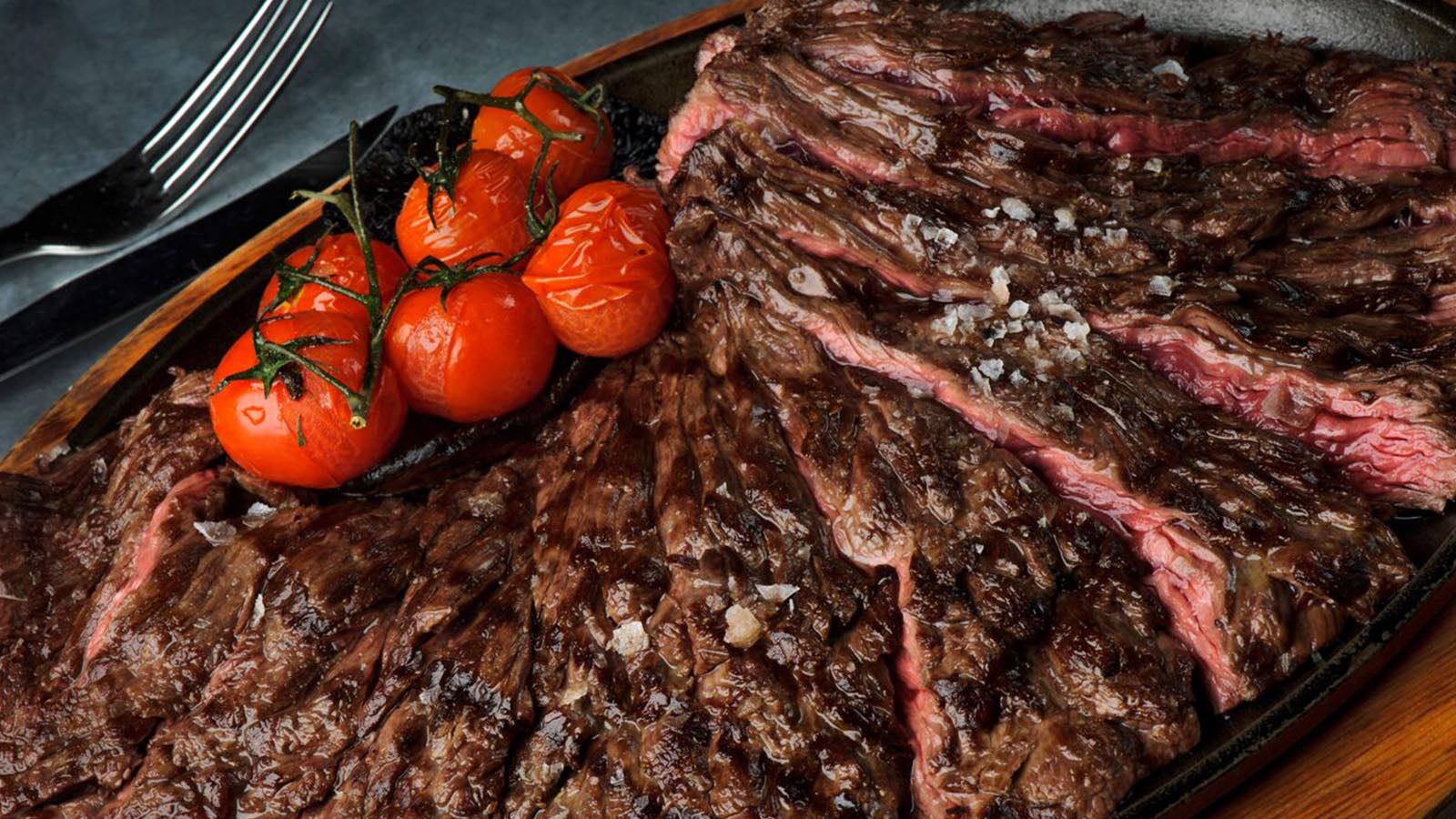 Mains
O'SHEA'S STEAKS, 28 Day dry Aged , Hand Selected from some of Britons Finest Farms, Served with Confit Vine Cherry Tomatoes & Bone Marrow
Rib Eye 200g
Flavoursome, rich in marbling the meat eater's favourite cut
Rump Steak 300g
Lean, succulent, great everyday steak
Fillet Tail 300g (+ £5)
Butter-like texture with exqusite tenderness and subtle flavour
The Others
Lamb Yorkie Pie
Rosemary Mash Potato, Orange Glazed Carrots By Cecilia Babboni, Commis Chef
Marinated & Fried Courgette Flowers
English Buffalo Ricotta, Apple, Courgette & Ginger Puree By Valerio Raponi & Damiano Ben Dhaou, Commis Chefs
Squid Ink Pearl Barley
Pea Puree, 'Woodal's' English Pancetta By Davide Cretoni, Chef De Partie
Sauces & Sides & Toppers
Sauces - £ 3
Red Wine | Oxford Blue | Peppercorn | Bearnaise | Bacon Jam
Sides - £ 5
Lyburn Dauphinoise Potato | Flat Cap Mushrooms, Rosemary | Cumin Roasted Heritage Carrots | Cauliflower & Truffle Bake | Creamed Baby Leaf Spinach | Tenderstem Broccoli | Toasted Almonds & Chili | Garden Salad
Toppers - £ 5
Paprika Sausages | Poached/Fried 'Burford Brown' Eggs | White Wine & Herb Tossed King Prawns
Desserts
Baked Coconut Pie
Raspberry Ripple Ice Cream By Bridgette Myrie, Pastry Demi Chef De Partie
Vegan Lime Meringue
Blackberry Compote, Avocado Mousse By Tori Stirrat, Pastry Chef De Partie
Black Cherry Bakewell Tart
White Chocolate Custard By Cornelia Iatan, Pastry Demi Chef De Partie
All prices are inclusive of VAT. A discretionary service charge of 12.5% will be added to your final bill. If you are concerned about food allergies, e.g. nuts, you are invited to ask one of our team members for assistance.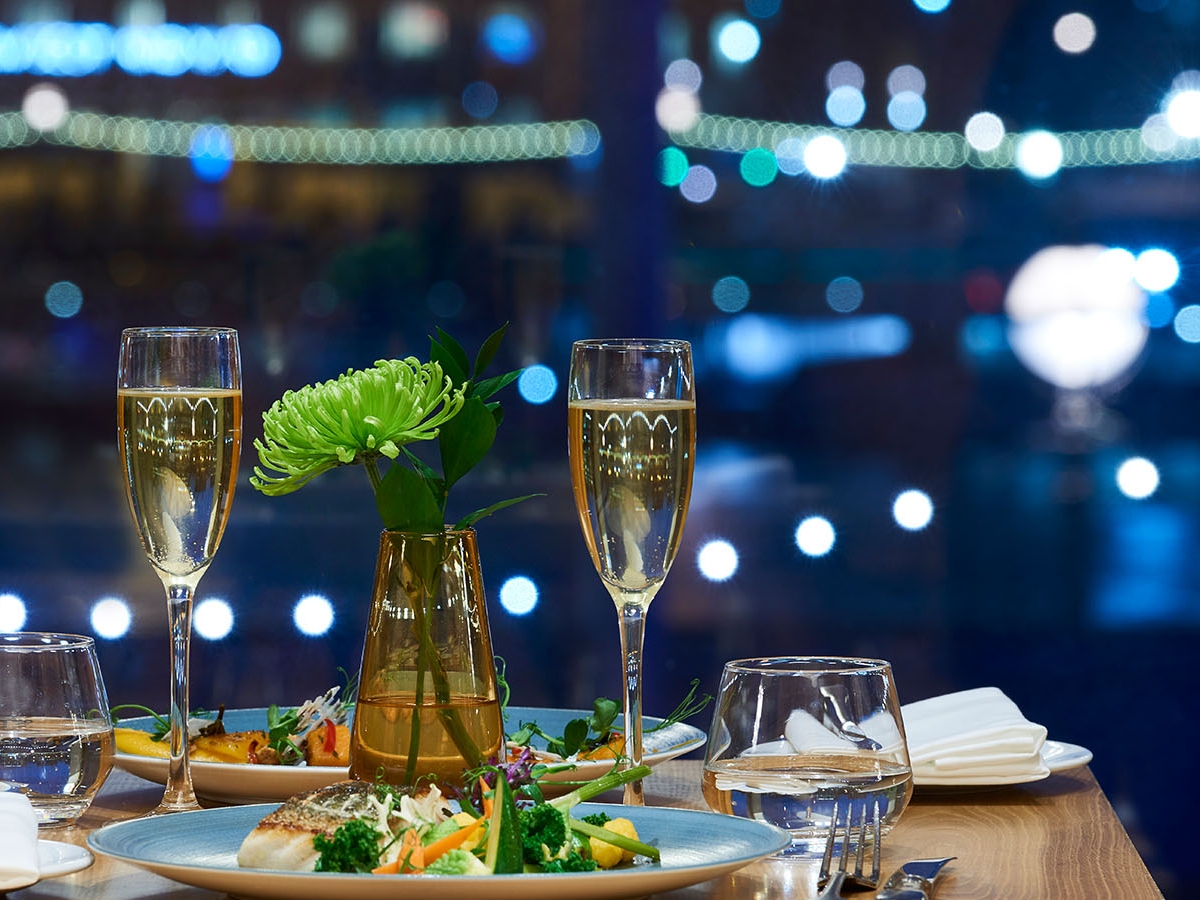 Available daily from 5-6pm and 9-10:30pm
Join us before or after the show to complete the evening with our theatre dinner menu. Learn More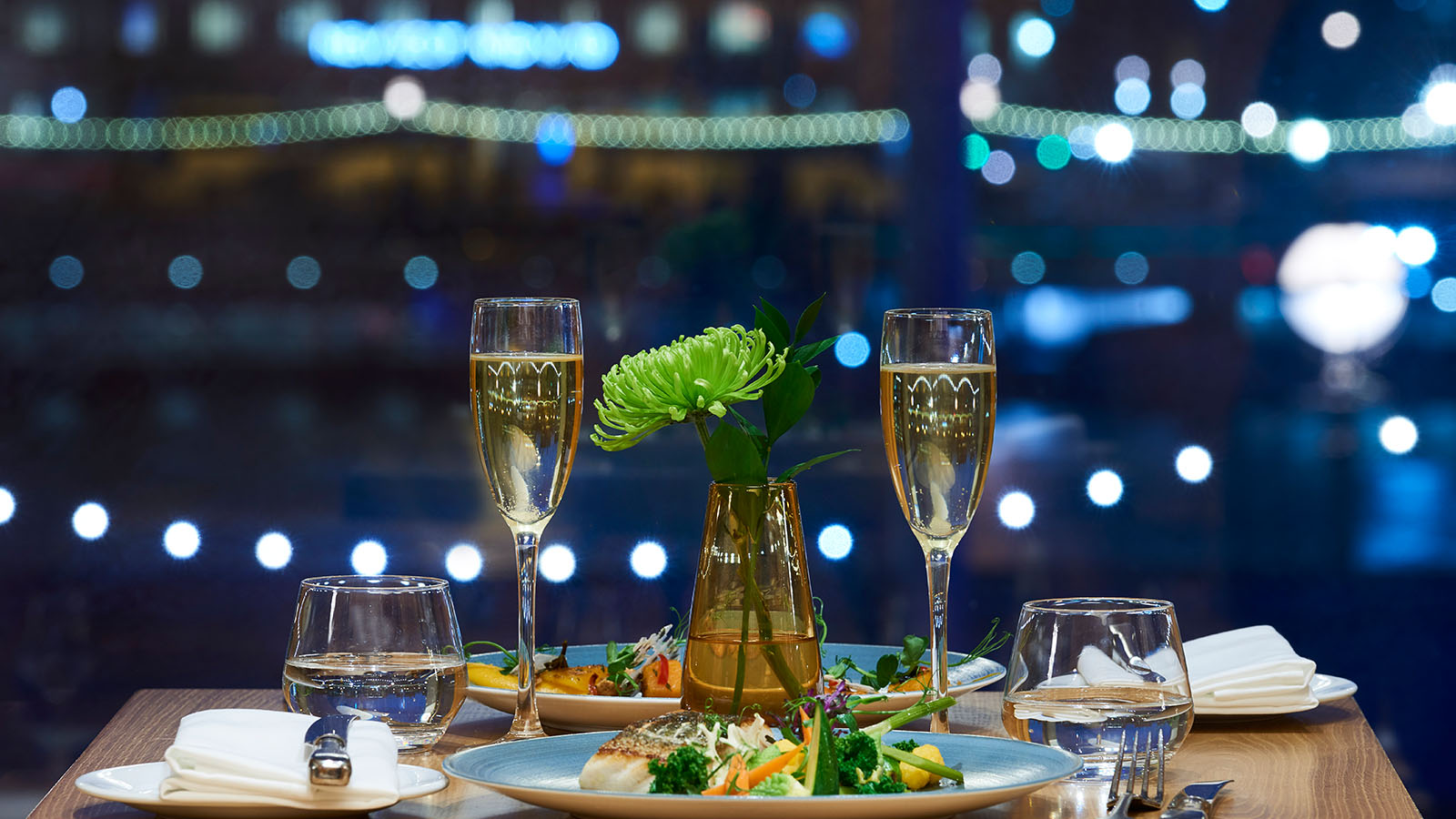 Pre Theatre Dinner
2 courses, including a glass of sparkling for £23 to complete your evening experience.
Book now
Choice of 2 courses from the Taste of Gillray's menu. Sparkling wine is sommelier's Choice. Available every daily from 5-6 and 9-10.30pm. Gillray's reserves the right to discontinue offer at any time.
Monday - Friday 6:30AM - 10:30PM
Saturday - Sunday 7AM - 10:30PM
Bar Opening Hours: Monday - Sunday 11AM - midnight
Breakfast Hours: Monday - Friday 6:30AM - 11AM
Breakfast Hours: Saturday - Sunday 7AM - 11AM