Menu
A La Carte Menu
For The Ravenous
Char-Grilled Chicken Caesar Salad
-
£14
Marinated Anchovies, Sour Dough Croutons, Parmesan
Sticky Honey & Chilli Beef Ribs
-
£10
Spicy Slaw
For The Peckish
Tear & Share Yorkshire Pudding (v)
-
£4
Lyburn Stoney Cross Cheddar
Crispy Cauliflower (vegan)
-
£5
Cumin Béarnaise
Our own BBQ Chicken Wings
-
£5.5
Celery Sticks, Sour Cream
Salt and Pepper Squid
-
£5
Garlic Mayonnaise, Lemon
On The Side
Truffle Mac n Cheese
-
£5
Flat Cap Mushrooms, Rosemary
-
£5
For The Quintessential
Gillray's Beef Burger
-
£16
Brioche Bun, Cheddar, Smoked Streaky Bacon, Pickle
Gillray's Yorkshire Pudding Club
-
£18
125g Sliced Sirloin Steak, Smoked Streaky Bacon, Tomato Chutney, Red Wine Sauce, Fried Egg
Roasted Squash
-
£14
Seeds, Walnuts, Goats Curd, Crispy Sage
Vegan Burger
-
£16
Vegan Cheese, Tomato Chutney
Fish & Chips
-
£19
Battered Haddock Fillet, Triple Cooked Chips, Posh Peas, Tartare Sauce
For The Sweet-Toothed
Sticky Toffee Pudding
-
£5
Clotted Cream Ice Cream
Salcombe Dairy Ice Cream
-
£5
Ask for flavours
Caramel Crème Brulee
-
£5
Butter Shortbread
Bar
Signature Cocktails
White Lion
-
Like the lion by Westminster Bridge, this bold drink brings bitter flavours together with Amadeus Pink Peppercorn gin and a touch of herbs to create the perfect aperitif
A Hackney Meeting
-
A delicate combination of Bourbon whiskey and warming spices creates this drink, perfect to be drunk before, after, and even with food.
Weird Sisters Low ABV
-
A fresh and light drink bringing lime, elderflower and mint together to create this low ABV thirst quencher.
Tea Tax Tempest
-
A refreshing iced tea, made using English Breakfast tea..
The Jubilee
-
A happy union of gin and citrus creates this fresh and delicious drink that remains a favourite season after season.
Breakfast
Hot Treats
One Pan Breakfast
-
£14
Daily offering
Benedict
-
£13
Toasted English Muffin, Wiltshire Cured Ham, Hollandaise
Florentine (V)
-
£ 12
Toasted English Muffin, Baby Leaf Spinach, Hollandaise
Royale
-
£ 15
Toasted English Muffin, 'Springs Smokery' Sussex Smoked Salmon, Hollandaise
Omelette
-
£11
Three eggs and up to three of the below options Grated Cheddar / Tomato / Mushroom / Red Onion / Ham
Chorizo Baked Beans on Toast
-
£10
Poached Egg
Parma Ham, Avocado
-
£12
Soft Boiled Egg, Salsa
Cumberland Sausage Bap
-
£10
Fried Egg, Onion Chutney
Smoked Salmon, Scrambled Egg
-
£14
Lilliput Capers, Chives
Potato Hash, Peppers (Vegan)
-
£9
Spring Onion, Kale, Tomato, Mushroom
Smashed Avocado on Toast (Vegan)
-
£9
Chilli, Coriander, Lime
American Pancakes
-
£12
Blueberry Jam, Sour Cream
Bakery
Two Slices White or Wholemeal Bloomer
-
£4
Butter, Preserves
Freshly Baked Pastry Basket
-
£5
Danish Pastry, Croissant and Chocolate Chip Flower Pot Muffin
Freshly Baked Bread Basket
-
£7
Selection of Baguette, Rye and Wholemeal Bagel with Butter and Preserves
Meat & Cheese Platter
-
£7
Norfolk Turkey, Wiltshire Ham, Applewood Cheddar, Emmental
Fruits/Yogurts
Fresh Fruit Salad, Low Fat Greek Yoghurt
-
£5
Jam Jar Granola, Fresh Berries, Organic Honey
-
£7
Over Night Chia Seed Pudding (Vegan)
-
£8
Banana, Almond Milk, Maple Syrup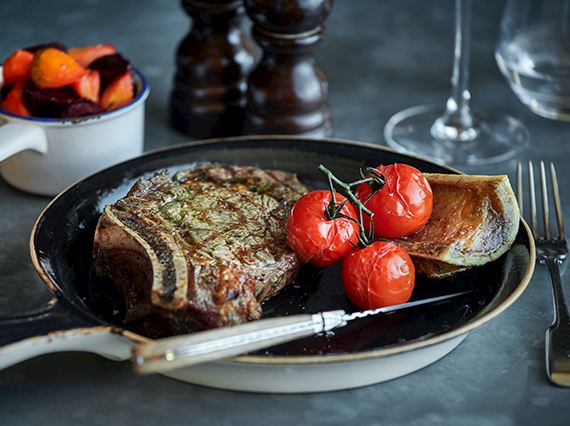 A La Carte Menu
Our menus are seasonally written to offer the best of the British countryside and larder. We offer the very best in quality produce and work tirelessly to ensure that our produce is sourced sustainably and responsibly.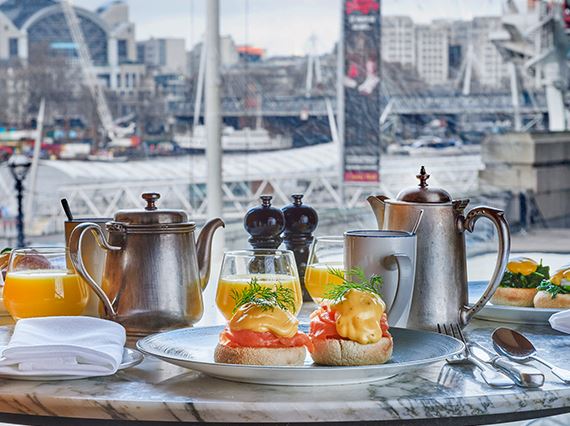 Breakfast
Wake up to the most iconic views of London's landmarks while enjoying our buffet breakfast at Gillray's. From hot and warm dishes to the a la carte offer, a selection to please every palate awaits.

We also offer a selection of Chinese specialities along with traditional English and Continental breakfast offers.

Breakfast is served from Monday to Friday from 6:30am - 11am and on Weekends from 7am - 11am