Menu
A La Carte Menu
For the ravenous
Cauliflower & Cumin Soup (v)
-
£9
Cheddar & Spring Onion Bhaji
Pan Seared Scallops
-
£16
Paprika Sausage and Pea Puree
Lemongrass Smoked Gressingham Duck
-
£12
Celeriac, Blackberry Gel
Scrambled Tofu on Toast (vegan)
-
£9
Wild Mushroom, Tarragon, Balsamic
For The Peckish (Choose 3 for £18)
Cornish Oysters
-
£3.5
Granny Smith Apple Salsa
Homemade Frazzles
-
£6
Crispy Smoked Streaky Bacon, Grain Mustard, Sour Cream
Ox Cheek Fritters
-
£7
Horseradish Dip
Salt & Pepper Squid
-
£6
Garlic & Squid Ink Mayonnaise, Caramelised Onion
Bread & Deep Fried Bone Marrow
-
£5
Tear & Share Yorkshire Pudding (v)
-
£4
Lyburn Stoney Cross Cheddar
Welsh Rarebit (v)
-
£6
Vine Tomato
For The Steak Lovers
Bull's Head
-
£74
1kg Prime Rib
Fillet 200g
-
£37
Exclusively for Gillray's 45-Day Dry Aged
Specials
O'Shea's Superior Cuts
-
Daily Limited Availability
Whole Lobster, Truffled Chips, Garlic Butter and Béarnaise
-
£45
On its own or as Surf to Your Turf
On The Side
Truffle Chips
-
£7
Lyburn Stoney Cross Cheddar
Tenderstem Broccoli
-
£5
Toasted Walnut Butter
Pan Tossed Baby Leaf Spinach
-
£5
Garlic & Chilli
'Lyburn' Dauphinoise Potatoes
-
£7
Flat Cap Mushrooms
-
£4
Rosemary
For The Quintessential
Gillray's Yorkshire Pudding Club
-
£21
150g Sliced Sirloin Steak, Tomato Chutney, Our Homemade Bacon Jam, Red Wine Sauce, topped with a Fried Egg
Steak Burger 200g
-
£18
Slow Braised Ox Cheek, Bacon Jam, 'Lyburn' Oak, Smoked Cheddar, Dill Pickle Fritter
Pollock Pie
-
£25
House Made Tartare, Samphire
Spatchcock Chicken
-
£25
Honey & Mustard Glaze, Sage & Onion Stuffing, Slow Roasted Garlic
Fish & Chips
-
£22
'Gillray's' London Pale Ale Battered Haddock, Triple Cooked Chips, Posh Peas, Tartare Sauce
Hot Smoked Salmon Salad
-
£20
Green Niçoise, Lemon & Yoghurt Dressing
For the Veggies
Roasted Delica Pumpkin
-
£15
Seeds, Chestnuts, Curd, Crispy Sage
Vegan Burger
-
£18
Vegan Cheese, Tiptree Tomato Relish
Celeriac and Oxford Blue, Pearl Barley Biryani
-
£17
Herb Flat Breads, Sage and Pinenut Yoghurt
For The Sweet-Toothed
Tiptree Lemon Curd Meringue Pie
-
£15
Our Signature Sharing Dessert
Pear Crumble Panna Cotta
-
£8
Blackcurrant Sorbet
Caramel Burnt Cream
-
£8
Chocolate Shortbread
Sticky Toffee Pudding
-
£8
Clotted Cream Ice Cream
Apple Tart (vegan)
-
£8
Salted Caramel Ice Cream
Boozy Ice Cream Sundae
-
£10
Bathtub Gin, Cherry Brandy, Spiced Rum
Salcombe Dairy Ice Cream
-
£7
Ask For Available Flavours
Gillray's English Cheese Board
-
£12
'Lyburn' Oak Smoked, Stoneycross, Tunworth, Barkham Blue
Taste of Gillray's
Starters
Gillray's Pale Ale Battered Monkfish Cheeks
-
English Pancetta Mayonnaise
Duck and Chestnut Terrine
-
Poached Fig and Syrup
Gillray's Seasonal Soup of the Day (v)
-
Crusty Bread
Crispy Cauliflower (vegan)
-
Truffle Béarnaise
Mains
Smoked Bacon Chop
-
Apple Champ Potatoes, Posh Peas, Fried Burford Brown Egg
Celeriac and Oxford Blue Pearl Barley Biryani (V)
-
Herb Flat Breads, Sage and Pinenut Yoghurt
Fillet Tail 300g (+ £5)
-
Pollock Pie
-
House Made Tartare, Samphire
Sides
Triple Cooked Chips
-
£4.50
Flat Cap Mushrooms
-
£5.50
Rosemary
'Lyburn' Dauphinoise Potatoes
-
£6
Truffle Chips
-
£7
'Lyburn' Stoney Cross Cheddar
Pan Tossed Baby Leaf Spinach
-
£5
Garlic & Chilli
Sauces
'Barkham' Blue Cheese
-
£3
Desserts
Pear Crumble Panna Cotta
-
Blackberry Compote
Caramel Burnt Cream
-
Chocolate Shortbread
Award Winning Salcombe Dairy Ice Cream
-
Ask for Flavours
Sticky Toffee Pudding
-
Clotted Cream Ice Cream
Vanilla & Tiptree Lemon Curd Meringue Pie
-
To Share (+£3)
Theatre Dinner
Starters
Smoked Chicken, Tarragon & Quail Egg Terrine
-
Mango Piccalilli
Hot Smoked Salmon Salad
-
Green Niçoise, Lemon Yoghurt
Heritage Tomato Salad (V)
-
Goats Curd, Baby Leaf Spinach, Spring Onion Salsa
Mains
Spatchcock Chicken
-
Honey and Mustard Glaze, Sage and Onion Stuffing, Slow Roasted Garlic
Covent Garden Market (v)
-
Veggie of the Day
Sea Bream Parcel
-
Black Olives, Baby Tomato, Capers, Shallots, Garlic Butter
Sides
Triple Cooked Chips
-
£4.50
Flat Cap Mushrooms, Rosemary
-
£5.50
'Lyburn' Dauphinoise Potatoes
-
£6
Truffle Chips
-
£7
'Lyburn' Stoney Cross
Pan Tossed Baby Leaf Spinach
-
£5
Garlic & Chilli
Desserts
Peach and Caramel Chocolate Panna Cotta
-
Blackcurrant Sorbet
Award Winning Salcombe Dairy Ice Cream
-
Ask for Flavours
Chocolate Spiral (Vegan)
-
Mandarin Gel, Chocolate Crumble, Mango Sorbet
Vanilla & Tiptree Lemon Curd Meringue Pie
-
To Share (+£3)
Sunday Roast
Choose between
Roasted 35 Day Dry Aged Beef Striploin
-
Yorkshire Pudding, Bone Marrow and Onion Gravy
Roasted Shoulder of Lamb
-
Redcurrant Gravy
Roasted Pork Loin
-
Crackling & Caramelised Apple
All Served with
A Selection of Seasonal Vegetables, Goose Fat Roasted Maris Pipers
-
Breakfast
Eggs
Eggs
-
£5
Fried, Poached, Scrambled
Sausage & Eggs
-
£ 15
Charred Sour Dough, H Forman&Son Smoked Salmon Sausages, Scrambled Eggs
Avocado & Eggs
-
£ 14
Charred Sour Dough, Smashed Avocado, Marinated Tomatoes, Poached Egg
Benedict
-
£ 13
Toasted English Muffin, Wiltshire Cured Ham, Hollandaise
Royale
-
£ 15
Toasted English Muffin, 'Springs Smokery' Sussex Smoked Salmon, Hollandaise
Florentine (V)
-
£ 12
Toasted English Muffin, Baby Leaf Spinach, Hollandaise
Omlettes
Omlette
-
£ 11
(up to 3 toppings) Ham, Bacon, Cumberland Salami, Hot Smoked Salmon, Cheddar, Red Onion, Mixed Peppers, Tomato, Mushroom, Baby Leaf Spinach, Spring Onion
Eggwhite Omlette
-
£ 11
Tomato, Rosary Goats Cheese, Baby Leaf Spinach, Vine Cherry Tomatoes - 188 kcal
Treats
Brioche Eggy Bread
-
£ 8
Blueberries, Vanilla Whipped Cream, Maple Syrup
Quinoa Porridge
-
£ 11
Almond Milk, Raspberries, Pommegranate, Tiptree Organic Honey 292 kcal
Hot Oatmeal
-
£ 7
Cinnamon, Orange Syrup, Toasted Almonds - 327 kcal
Waffle
-
£ 8
Banana, Vanilla Whipped Cream, Tiptree Salted Caramel
Buttermilk Pancakes
-
£ 9
Banana, Vanilla Whipped Cream, Tiptree Salted Caramel
Overnight Coconut & Banana Oatmeal
-
£ 7
Pumpkin Seeds, Passion Fruit - 291 kcal
English Breakfast
Full English breakfast
-
£25
Cumberland Sausage, Streaky Bacon, Flat Cap Mushroom, Black & White Pudding, Potato Hash, Baked Butter Beans, Vine Cherry Tomatoes. Fried, Poached or Scrambled Clarence Court Eggs
G&T Afternoon Tea
Savoury
London Cured Salmon, Caper Butter, Beetroot Bread
-
Beef Pastrami, Horseradish, Rye & Caraway Bread
-
Honey Cured Ham, Honey Mustard, Spinach Bread
-
Goat's Cheese, Caramelised Onion, Basil Bread
-
Cucumber, Cream Cheese, Dill, Wholemeal Bread
-
Sweet
Mandarin and Prune Tart
-
Caramelised Milk Chocolate and Chestnut Slice
-
Matcha Tea and White Chocolate Macaron
-
Selection Of Scones
Golden Raisins Sweet Scones
-
Served With Tiptree County Hall Strawberry Jam & Dorset Clotted Cream
-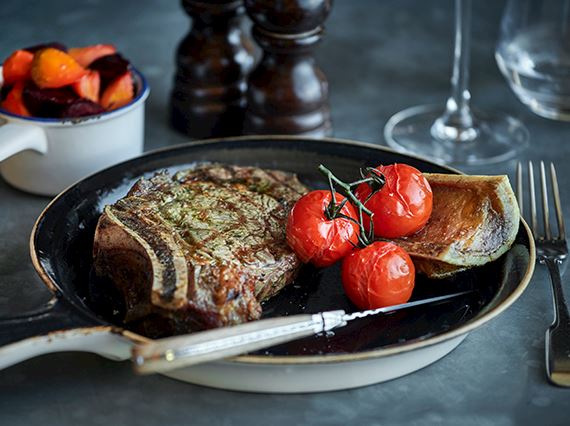 A La Carte Menu
Our menus are seasonally written to offer the best of the British countryside and larder. We offer the very best in quality produce and work tirelessly to ensure that our produce is sourced sustainably and responsibly.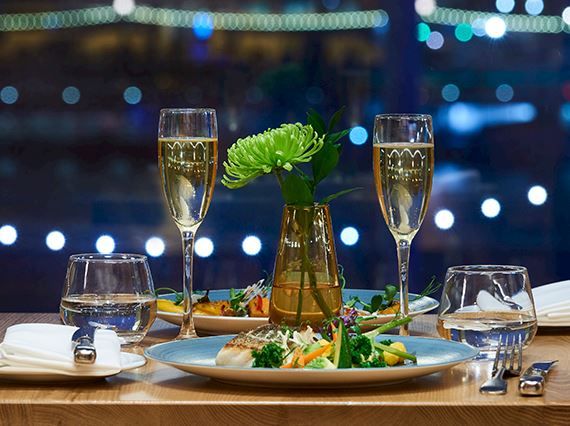 Theatre Dinner
Celebrate your night out at Gillray's
Start your evening with a delicious meal at Gillray's Steakhouse & Bar before enjoying the show. A special offer pre- and post-theatre dinner menu is available Monday - Friday, including 2 courses and a glass of sparkling wine for £23.

From 5-6pm - 9-10.30pm, Monday - Friday, at Gillray's Steakhouse.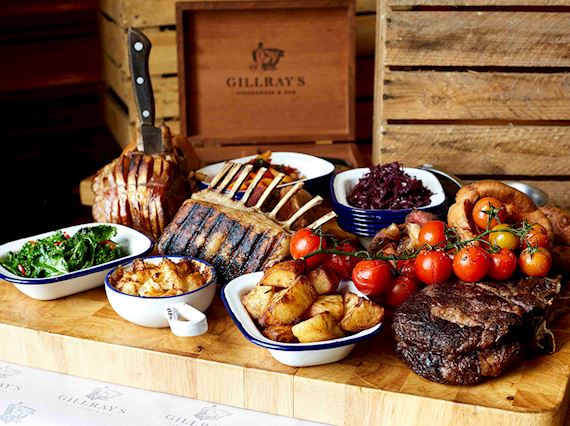 Sunday Roast
Originating from the tradition of a large meal after Sunday service, Britains just love their Sunday roasts and so do we.

Deliciously prepared crispy outside-fluffy-inside potatoes, our signature puffy Yorkshires and the finest vegetables accompany our top quality meats for a truly British Steakhouse experience on a Sunday.

Every Sunday, 12pm - 6pm at Gillray's Steakhouse. From £22 per person.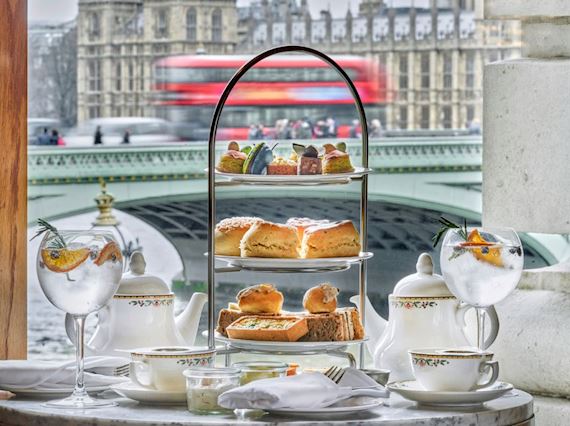 G&T Afternoon Tea
What is more quintessentially British than Afternoon Tea? And what better view to get in London than those of the Houses of Parliament or London Eye. Gillray's Bar has it all and offers you now a new twist on the English Classic.

Enjoy unlimited Gin & Tonic with your afternoon tea at Gillray's Bar with stunning views, excellent service and a cosy atmosphere.

Gin selected by barman. Every day, 1pm - 4pm. From £43 per person.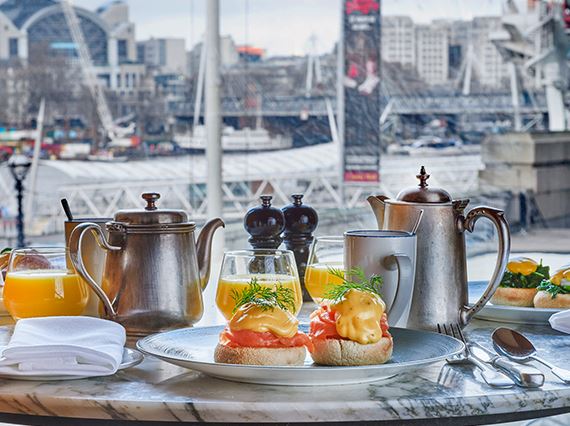 Breakfast
Wake up to the most iconic views of London's landmarks while enjoying our buffet breakfast at Gillray's. From hot and warm dishes to the a la carte offer, a selection to please every palate awaits.

We also offer a selection of Chinese specialities along with traditional English and Continental breakfast offers.

Breakfast is served from Monday to Friday from 6:30am - 11am and on Weekends from 7am - 11am